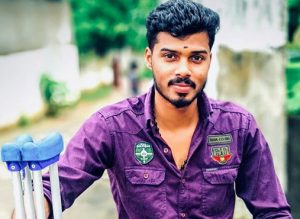 Kozhikode: Cancer patient Nandu Mahadev, 27, passed away here in Kozhikode on Saturday morning. He was undergoing treatment at MVR cancer hospital in Kozhikode and the end came there.
Hailing from Thiruvananthapuram, Nandu  Mahadev was an amputee and had formed a Facebook collective Athijeevanam, a collective of seriously ill patients and charity workers, to provide emotional support to people.
He was diagnosed with bone cancer four years back and his leg was amputed. The infection had spread to his lungs too and he faced severe health issues.