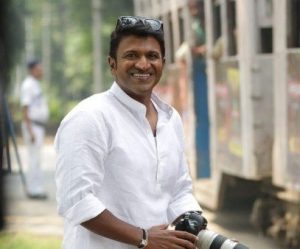 BENGALURU: Kannada super actor Puneeth Rajkumar died here Friday. He was 46. He complained of chest pain and was rushed to Vikram Hospital in Bengaluru. Many including Karnataka Chief Minister had visited him in the hospital.
He was known as Appu in the film industry. The actor and son of matinee idol late Rajkumar was rushed to the hospital after collapsing while exercising in a gym.
He started his career as a child artist with his father in the early 80's He was among the highest paid stars in the Kannada film industry today and also a popular television presenter.
His film credits as a lead actor include Mourya, Arasu, Raam and Anjani Putra. He is also a singer and is admired for his dance skills. Puneeth made his TV debut in 2012 as presenter of Kannadada Kotyadhipathi, the Kannada version of game show Who Wants To Be A Millionaire?
He has been a lead actor in 29 films. His performances in Vasantha Geetha (1980), Bhagyavantha (1981), Chalisuva Modagalu (1982), Eradu Nakshatragalu (1983), Bhakta Prahaladha, Yarivanu and Bettada Hoovu (1985) were praised. He won the national film award for best child artist for his role of Ramu in Bettada Hoovu. He also won Karnataka State Award Best Child artist for Chalisuva Modagalu and Yeradu Nakshatragalu. Puneeth's first lead role was in 2002's Appu.
He has been dubbed by media and fans as Powerstar. He has appeared as a lead actor in commercially successful films, including Appu (2002), Abhi (2003), Veera Kannadiga (2004), Mourya (2004), Aakash (2005), Ajay (2006), Arasu (2007), Milana (2007), Vamshi (2008), Raam (2009), Jackie (2010), Hudugaru (2011), Raajakumara (2017), and Anjani Putra (2017).
Puneeth Rajkumar is married to Ashwini Revanth and has two daughters Drithi and Vanditha