ICC World Cup 2019 | Dinesh Karthik pips Rishabh Pant, Vijay Shankar Chosen Over Ambati Rayudu for India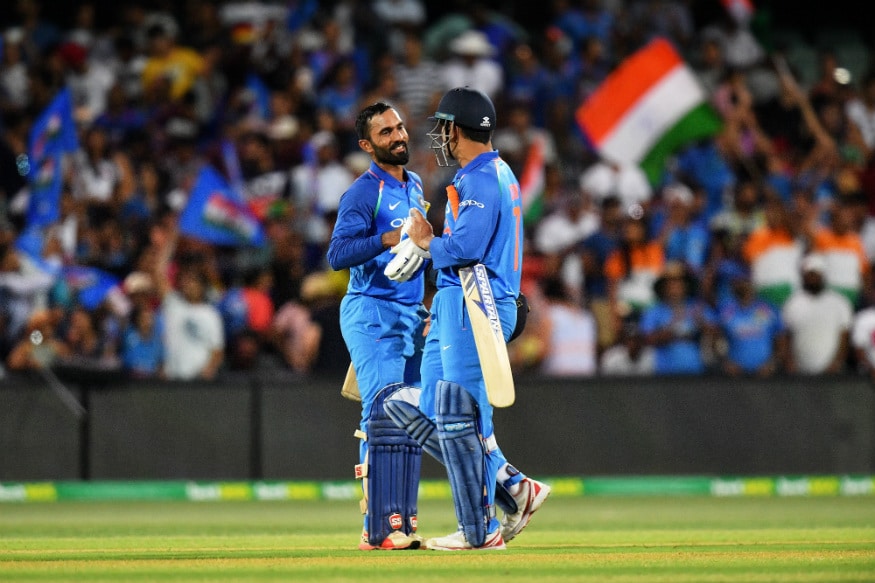 Rishabh Pant and Ambati Rayudu are the two most notable exclusions from India's 15-man squad for the World Cup in England and Wales starting on May 30. Dinesh Karthik, who was left out for India's most recent series against Australia has been recalled. K L Rahul and Vijay Shankar have also earned call-ups, as has Ravindra Jadeja.
 The experienced Karthik trumped the youthful Pant, who has only played 5 ODIs so far, due to his ability to handle pressure and finish off games. Vijay managed to the secure the berth due to his bowling skills and superior fielding and chairman of selectors M S K Prasad also confirmed that he will be batting at four.
"We debated at length whether to pick Pant or DK (Dinesh Karthik). We felt that either of them would only come into the XI if Mahi (Dhoni) is injured. We felt that if it is a big game like semifinal or final, keeping ability also matters. Pant was almost there," Prasad said after the selection meeting in Mumbai on Monday.
"We also discussed in a crunch match who is best suited to handle pressure. Under pressure we have seen DK finishing games."
What went against 21-year-old Pant was his inability to carry on and finish off games in the opportunities that he got in the shorter format. While he averages 49.71 in Test cricket, the average drops of 23.25 in five ODIs and 19.41 in 15 T20s.
The selectors just did not have enough faith in Pant doing the job in crunch situations that India might face in the World Cup. Karthik, on the other hand, who is 33 years of age has played in 91 ODIs and as he showed in Nidiahas Trophy last year with an eight ball-29, he can be the finisher that India needs.
Prasad also clarified that performances at the on-going IPL-12 were not considered by the selectors. This meant that Pant's 245 runs in eight games didn't count for much as compared to Karthik's 111 runs in the same number of matches.
"This squad was very close to the side we picked against Australia. We didn't consider IPL form. The likes of Iyer and Shubman Gill are doing well but they were not considered," Prasad said.
The other major debate was between Vijay and Rayudu and the chairman of selectors felt that it was the former doing more things right than Rayudu doing much wrong.
"After the 2017 Champions Trophy, we tried a lot of middle-order batsmen which included the likes of Shreyas Iyer and Manish Pandey. Vijay offered us three dimensions — he might bowl a bit and is fantastic fielder. He is a batman who might bowl a bit. We are looking at him for the No. 4 position.
"Nothing went against Rayudu but lot of things went in favour of Shankar," former India wicketkeeper Prasad said about selecting Vijay.
Asked to elaborate on the selector's view of who are India's options of No. 4 batsman in the playing XI, Prasad said, "Yes, we are looking at Shankar in that position while Jadhav is another option. Rahul is also there which can look at one of the top order option. But for now we have picked Rahul as the back-up opener."
The decision seems puzzling considering the fact that Rayudu was the most experienced batsmen in No. 4 spot since 2017 with 15 games and an average of 42.18. Vijay, though, doesn't have a single innings at the No.4 position in the handful of ODIs he played.
The selectors also picked left-arm spinner Ravindra Jadeja as the third all-rounder. The Saurashtra and Chennai Super Kings left-arm spinner Jadeja average 29.92 with the bat in 151 ODIs and 35.89 with the ball with 174 wickets.
However, Jadeja was one of the architects of India's triumph in the 2013 Champions Trophy which incidentally also took place in England.
"Over the last couple of years, Chahal and Kuldeep (Yadav) have won us a lot of games. Jadeja brings in variety among the spinner. The wickets might get drier as the tournament goes on and that's why we have picked Jadeja," Prasad said about picking Jadeja as the additional all-rounder.
The fact that the team have the option of Hardik Pandya and Vijay meant that an additional pace bowling option was not required. "Apart from the three pacers, Pandya can bowl, so can Shankar and Jadhav. So we have 7 bowling options. Khaleel (Ahmed) and Navdeep (Saini) were discussed. If need arises, one of them will be picked in the squad," Prasad informed.
The International Cricket Council (ICC) gives all countries the option of changing this 15-man squad till seven days before the start of the World Cup. But the chief selector said that the squad will not be changed unless there is an injury.
The team will also travel with four other medium pacers apart from the squad of 15, the names of which will be announced soon by the BCCI. It is expected that Navdeep Saini, Umesh Yadav and Khaleel Ahmed could be among the additional pace bowlers.
Squad: Virat Kohli (captain), Rohit Sharma (vice-captain), Shikhar Dhawan, KL Rahul, Vijay Shankar, MS Dhoni, Kedar Jadhav, Dinesh Karthik, Yuzvendra Chahal, Kuldeep Yadav, Bhuvneshwar Kumar, Jasprit Bumrah, Hardik Pandya, Ravindra Jadeja and Mohammed Shami.